Forward-Thinking Leadership
Comprehensive patient treatment begins with collaboration between clinical care, research and education.
Ali R. Rezai, MD
Executive Chair Rockefeller Neuroscience Institute
John D. Rockefeller IV Chair in Neuroscience
Associate Dean and Vice President, Neuroscience
View Expanded Bio
Ali Rezai, MD, is a functional neurosurgeon whose career has been dedicated to advancing the care of people with neurological and mental health conditions. Dr. Rezai is the Associate Dean of Neuroscience at West Virginia University (WVU) and executive chair and director of the WVU Rockefeller Neuroscience Institute (RNI). Since its inception in 2018, Rezai has developed the RNI into a world-class patient care, education, and research institute with 230 faculty in five departments, and over 1,500 professionals providing neurological and mental health care for 250,000 patients annually.
After graduating from UCLA, Dr. Rezai earned his medical degree with honors from the University of Southern California, underwent neurosurgical training at New York University, and completed functional neurosurgery fellowship training at the University of Toronto. He began his academic career at New York University as the director of the Center for Functional Neurosurgery.
He was then recruited to the Cleveland Clinic to direct the functional neurosurgery program, was appointed the Seidman Chair, and founded the Center for Neurological Restoration. Prior to the RNI, he was the Ross Chair in Neuromodulation and inaugural director of the Ohio State University Neurological Institute.
A board-certified neurosurgeon, Dr. Rezai's clinical practice focuses on neuromodulation for movement disorders, chronic pain, nervous system injury, and neurobehavioral disorders. He has been named one of the best doctors in America in Castle Connolly's Guide to America's Top Doctors for 21 consecutive years from 2001-2022.
His research focuses on rapid cycle innovation and application of new neuromodulation technologies in Parkinson's, brain/spinal cord injury, addiction, Alzheimer's, and other conditions. Holder of 60 US patents, Dr. Rezai facilitates partnerships with academic, government, and industry leaders collaborating on development and deployment of neuromodulation technology for patient care.
Author of over 200 scientific publications with a h-index of 89, including Nature, JAMA Neurology, Lancet Neurology, and the Proceedings of the National Academy of Sciences, Dr. Rezai has served on the editorial board of multiple scientific journals. He is the co-editor of the three-volume textbook Neuromodulation as well as Surgery for Psychiatric Disorders. Dr. Rezai has been the principal/co-investigator on seven NIH grants. He has trained over 50 neurosurgical fellows and delivered more than 500 lectures internationally.
He is a sought-after speaker at medical conferences as well as popular tech venues including Collision, SXSW, TED, and Web Summit. Dr. Rezai was invited to present his research to the President of the United States, as well as to members of the US Senate and House of Representatives on Capitol Hill and four state governors.
Dr. Rezai is the past president of the Congress of Neurological Surgeons (CNS), the North American Neuromodulation Society (NANS), and the American Society of Stereotactic and Functional Neurosurgery (ASSFN). Dr. Rezai has received numerous awards including being named the Cleveland Clinic and Ohio State University innovator of the year and received the NANS Lifetime Achievement Award.
Dr. Rezai's neuromodulation research is frequently featured in a range of prominent media including The Washington Post, BBC, CBS, CNN, PBS, Good Morning America, Harper's, NBC Nightly News, Today, Discovery Channel, Scientific American, Financial Times, TechCrunch, MIT Technology Review, among others.
James H. Berry, DO
Chair Department of Behavioral Medicine and Psychiatry
View Expanded Bio
James H. Berry, DO, is Professor and Chair of the Department of Behavioral Medicine and Psychiatry and Director of Addictions at the West Virginia University School of Medicine's Rockefeller Neuroscience Institute. He is board certified in both General Psychiatry and Addiction Psychiatry.
Dr. Berry received his medical degree from Michigan State University College of Osteopathic Medicine, completed a General Psychiatry residency at West Virginia University, and an Addiction Psychiatry fellowship at the University of Hawaii. He and his colleagues at WVU have developed innovative community-based treatment models in response to the addiction crisis in Appalachia, and are actively engaged in novel neuromodulation research related to substance use disorders, including the nation's first trial of Deep Brain Stimulation for opioid use disorder.
Berry has been a dedicated clinician and enthusiastic educator in West Virginia since the early days of the addiction epidemic. He is the proud recipient of The Addiction Policy Forum's Pillar of Excellence Award for Addiction Treatment, West Virginia Department of Health and Human Resource's inaugural Medical Provider Award for Advancement of Quality Addiction Care, and WVU School of Medicine's Distinguished Teacher Award.
Statewide, he serves as a member of the West Virginia Governor's Advisory Council on Substance Use Disorders and the Medical Cannabis Advisory Board. Nationally, he chairs the American Board of Psychiatry and Neurology's Addiction Psychiatry Examination Committee and serves on the American Osteopathic Academy of Addiction Medicine Board of Trustees, the Academy for Integrating Behavioral Health and Primary Care's National Integrational Academy Council, and the Addiction Policy Forum's Scientific Advisory Board.
He has enjoyed advocating on behalf of those suffering from mental illness and addiction before audiences as varied as local town hall meetings to testifying before the U.S. Senate. Berry's work and opinions have led to interviews with local, state, and national media sources such as Politico, NPR, Psychology Today and The Doctors television show. He and his patients were featured in the PBS NOVA documentary Addiction that exposed a national audience to the science behind addiction and the humanity of those who suffer.
David Watson, MD
Chair Department of Neurology
View Expanded Bio
David Watson, MD, is a board-certified clinical headache specialist who serves as professor and chair of the WVU Department of Neurology. He founded and previously directed the WVU Headache Center. He joined the WVU faculty in 2008 as assistant professor of neurology and has been an active clinician, educator, and researcher.
His clinical work focuses on patients with headache disorders, including migraine and cluster, as well as access to clinical care in underserved populations. He has also been active in clinical research focused on new treatment options for headache patients.
Watson earned his medical degree from the WVU School of Medicine and completed a residency in neurology and a fellowship in headache medicine at the University of North Carolina. In previous roles, he served as an assistant professor of neurology at the University Headache Center at University of Pittsburgh Medical Center and a clinical instructor in neurology at the University of North Carolina.
Watson is a member of the Advocacy Committee of the American Academy of Neurology, chairs the Advocacy Engagement Subcommittee of the AAN. He is a member of the AMA Opioid Task Force, the NCAA Headache Task Force, and the AAN Gender Disparities Task Force.
He founded and chaired Runnin' For Research, a charitable organization dedicated to headache and migraine disorders research, until 2019 when it became part of Miles for Migraine. He has been the recipient of numerous awards, including the Palatucci Advocate of the Year award in 2017 by the American Academy of Neurology.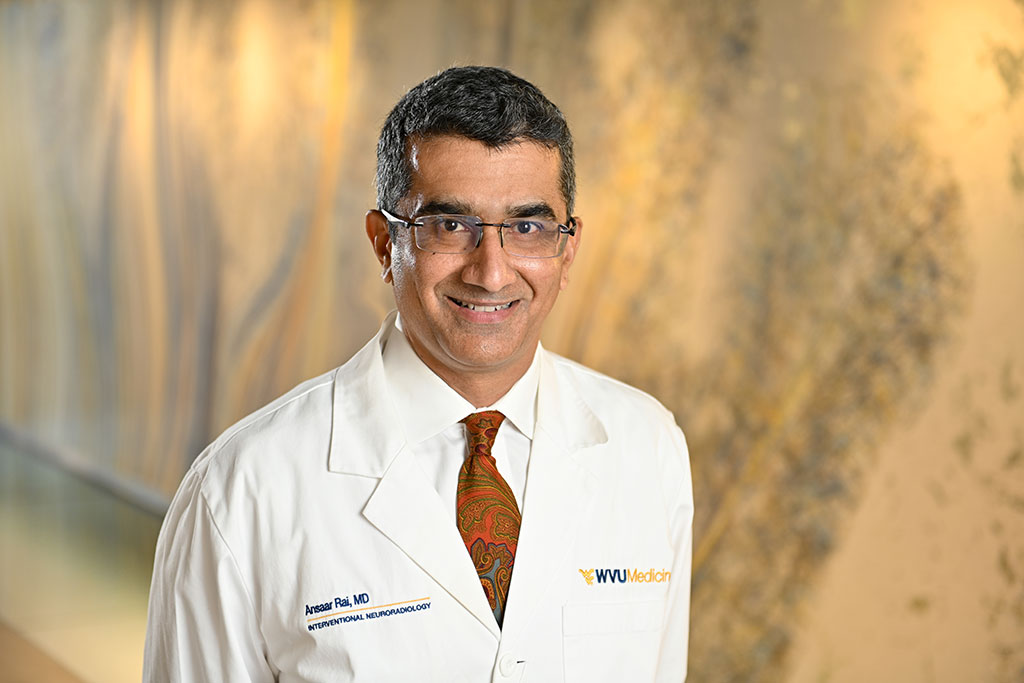 Ansaar Rai, MD
Chair Department of Neuroradiology
View Expanded Bio
Ansaar T. Rai, MD, is board certified in Neuroradiology by the American Board of Radiology and in Endovascular Neurosurgery by the Congress of Neurosurgeons. Dr. Rai is the inaugural chair of the first-of-its-kind Department of Neuroradiology in the WVU Rockefeller Neuroscience Institute. Rai's clinical and academic interest has been the diagnosis and minimally invasive treatment of cerebrovascular diseases such as stroke and aneurysms, and he has close to 20 years of experience in this field.
Dr. Rai has published extensively in peer-reviewed literature and presented at multiple national and international forums pertaining to endovascular neurosurgery. He has been a lead investigator in multiple clinical trials focused on the treatment of acute ischemic stroke. Dr. Rai has also chaired national meetings and remains actively involved in multiple organizations dedicated to the advancement of cerebrovascular medicine.
Dr. Rai currently has served as secretary and member at large for society of neurointerventional surgery (SNIS), the largest physician organization pertaining to his field. He has previously served in leadership roles in the American College of Radiology including being president of the state chapter.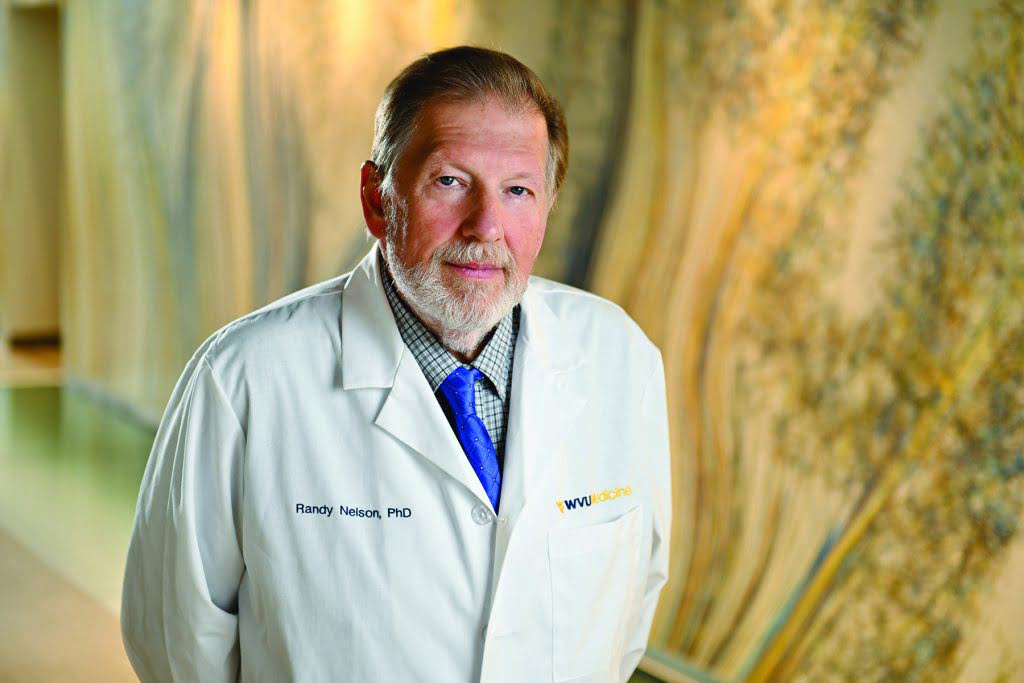 Randy Nelson, PhD
Chair Department of Neuroscience
Director Basic Science Research
View Expanded Bio
Neuroscientist Randy Nelson, PhD, PhD, is the inaugural chair of the WVU Department of Neuroscience; he holds the Hazel Ruby McQuain Chair for Neurological Research in the WVU School of Medicine and is the Executive Director of Basic Neuroscience Research in the WVU Rockefeller Neuroscience Institute. He also leads the Neuroscience PhD Program, one of the seven biomedical science PhD programs at the WVU Health Sciences Center. Nelson also is the Director of the new cross-campus Center for Foundational Neuroscience Research and Education.
Dr. Nelson earned a PhD in psychology and a second PhD in endocrinology from the University of California Berkeley. He completed a post-doctoral fellowship at the University of Texas Austin.
He came to WVU from the Ohio State University Wexner Medical Center, where he was Distinguished University Professor and chair of the Department of Neuroscience. He held the Dr. John D. and E. Olive Brumbaugh Chair in Brain Research and Teaching and had a joint appointment as professor of psychology. Nelson was basic science director of the Neurological Research Institute, where he oversaw the research efforts of more than 280 neuroscientists at Ohio State. He also directed the Chronic Brain Injuries Discovery Theme as the faculty lead and co-directed the Neuroscience Graduate program prior to becoming the chair. Nelson served on the faculty at Johns Hopkins University from 1986-2001, when he moved to Ohio State.
He has published more than 500 peer-reviewed articles and 14 books, including "Introduction to Behavioral Endocrinology," an internationally recognized textbook. Nelson was instrumental in developing the undergraduate program in neuroscience at Johns Hopkins, as well as an undergraduate major and minor in neuroscience at Ohio State. He has received numerous national honors and awards, including the 2017 Award for Education in Neuroscience by the Society for Neuroscience.
Peter Konrad, MD, PhD
Chair Department of Neurosurgery
J. W. Ruby Professor of Neurosurgery and Neuroscience
View Expanded Bio
Peter Konrad, MD PhD completed graduate degrees from Purdue University in Biomedical Engineering and Physiology developing device technology for cardiac implants (MS '85) and motor systems physiology (PhD '88) under Presidential Medal of Technology Awardee – Dr. Leslie Geddes. He became very interested in implantable medical device technology and neural engineering and sought to become a neurosurgical expert in the field of neurological implants.
After completing medical school from Indiana University in 1991, he went on to Vanderbilt for neurosurgical residency and finished in 1997. Dr. Konrad remained at Vanderbilt from 1998 until 2020, where he grew one of the largest clinical programs in deep brain stimulation (DBS) and functional neurosurgery.
Dr. Konrad came to the Rockefeller Neuroscience Institute in 2020 as the JW Ruby Professor of Neurosurgery and Neuroscience and became the Executive Director for Clinical Translational Neuroscience, charged with leading clinical trials research. He transitioned to the position of Chairman of the Department of Neurosurgery in April of 2022. Dr. Konrad has mentored over 40 graduate students and clinical fellows in all areas of neural engineering and neuroscience research.
He brings 25 years of federal and industry funded research experience as well as over 130 peer reviewed publications in the field of functional neurosurgery and neural engineering. He has served as advisor to the Congress of Neurological Surgeons on medical devices and was a Board of Director member of the American Association of Stereotactic and Functional Neurosurgery. After 15 years on the Board of the North American Neuromodulation Society (NANS), he served as the president during 2020-2022.
Dr. Konrad brings to the RNI a passion for clinical care, research and mentorship, especially in neurological device technology. In his role as Chairman of Neurosurgery, he is helping shape the next generation of leaders in neurosurgery at West Virginia University. In doing so, he enjoys mentoring students and faculty, acknowledging that innovation in healthcare depends on seeing through the eyes of discovery in others.
P. David Adelson, MD, FACS, FAAP
Executive Director WVU Medicine Children's Neuroscience Center
Vice Chair WVU Rockefeller Neuroscience Institute
Professor Department of Neurosurgery, WVU School of Medicine
View Expanded Bio
David Adelson, MD, FACS, FAAP, is a globally recognized expert in pediatric neurosurgery, with extensive experience in epilepsy surgery, CNS tumors and vascular malformations, and management of neurotrauma including brain, spinal cord, and brachial plexus/peripheral nerve injuries. Dr. Adelson is the Steve A. Antoline Endowed Chair for Children's Neuroscience, vice chair of the WVU Rockefeller Neuroscience Institute, inaugural executive director of the WVU Medicine Children's Neuroscience Center, and professor in the West Virginia University (WVU) School of Medicine Department of Neurosurgery.
Dr. Adelson earned both his undergraduate and medical degrees at Columbia University. Upon medical school graduation, Dr. Adelson moved across the country to the University of California, Los Angeles to complete his neurosurgical residency, followed by a return to the East Coast for a fellowship in pediatric neurosurgery at the Children's Hospital of Boston and Harvard Medical School.
After his fellowship, Dr. Adelson joined the University of Pittsburgh and Children's Hospital of Pittsburgh team, ending his time there as the A. Leland Albright Professor of Neurosurgery/Pediatric Neurosurgery and vice chairman for research for the Department of Neurological Surgery. He was then recruited to serve as director and chief of pediatric neurosurgery and neuroscience at Barrow Neurological Institute at Phoenix Children's Hospital and as Diane and Bruce Halle Endowed Chair for Children's Neurosciences prior to becoming a Mountaineer. In these roles, Dr. Adelson was instrumental in the development of one of the top pediatric neuroscience programs in the country.
In addition to his clinical and leadership roles, Dr. Adelson is also the recipient of many awards and accolades, including but not limited to Surgeon of the Year (Phoenix), multiple named lectureships, and multiple inclusions in The Best Doctors in America, a list honoring the nation's top-ranked physicians. He is also a recipient of the Herbert Olivecrona Medal from the Karolinska Institute in Stockholm, Sweden, considered by many to be the "Nobel Prize of Neurosurgery", for his work in pediatric neuroscience. Dr. Adelson also served as President for the Congress of Neurological Surgeons (2008-2009).
A prolific researcher, Adelson has authored over 300 publications in peer-reviewed journals and 45 book chapters. On top of his published research, Adelson has also edited eight books, including the widely respected pediatric neurosurgery textbook, "Principles and Practice of Pediatric Neurosurgery," now in its third edition. He has also given over 500 presentations, lectures, and visiting professorships both nationally and internationally.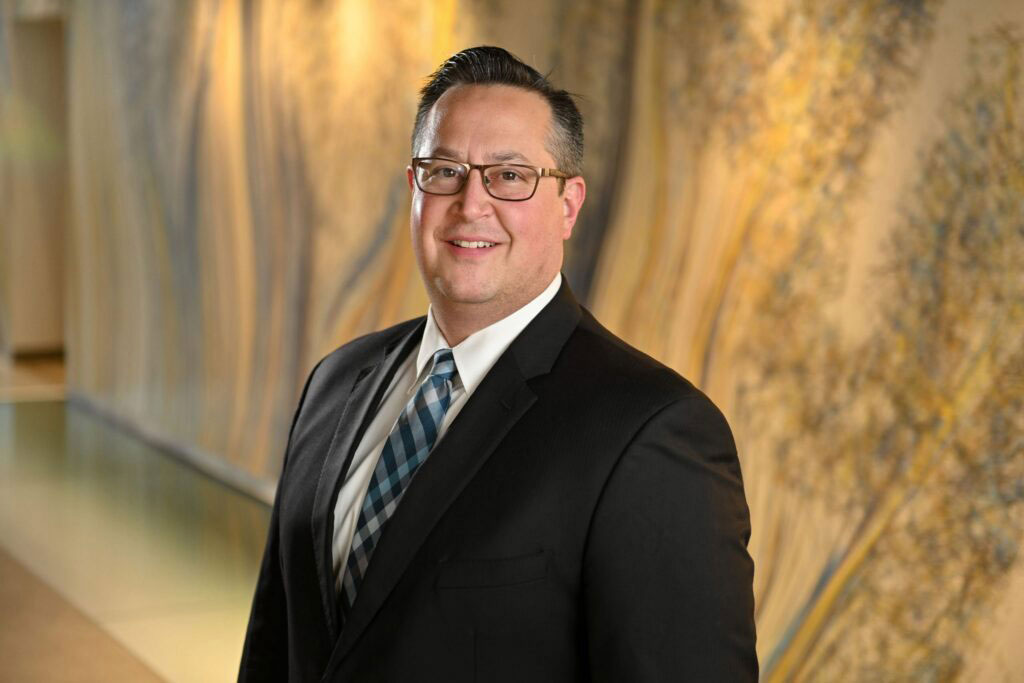 Victor Finomore, PhD
Executive Director Research Operations
View Expanded Bio
Victor Finomore, PhD, executive director of research operations, also serves as assistant professor in the WVU Department of Neuroscience and an adjunct professor in the WVU Department of Chemical and Biomedical Engineering at the Statler College of Engineering and Mineral Resources.
Dr. Finomore received his BS degree in Psychology at the University of Dayton in 2003 and his MA (2006) and PhD (2008) in Experimental Psychology from the University of Cincinnati.
Prior to coming to West Virginia University in 2018, Dr. Finomore served as Technical Advisor for the Warfighter Effectiveness Research Center at the United States Air Force Academy where he led a multidisciplinary team of scientists and engineers along with cadets to carry out cutting-edge research focused on improving human performance. Before his appointment at the United States Air Force Academy, Dr. Finomore was an Engineering Research Psychologist in the Warfighter Interface Division, 711th Human Performance Wing, U.S. Air Force Research Laboratory where he focused on multimodal displays, human performance, neuroergonomics, and advanced technology integration for Battlefield Airmen, Command and Control, and Cyber Operators.
Rochelle Goodwin, JD
Vice President Strategy and Policy
View Expanded Bio
Rochelle Goodwin serves as the Vice President of Strategy and Policy for the Rockefeller Neuroscience Institute and Senior Associate Vice President for Academic and Public Strategy at West Virginia University. Over the past five years, Rochelle has furthered the University's R1 and land grant goals of aligning policy, economic development and education by managing strategic partnerships with academic institutions, government, community leaders, business and non-profit organizations.
Rochelle has had a 20-year career in public service, law, and policy. During her time with the West Virginia Women's Commission, Rochelle worked to advance economic opportunity, diversify board governance and promote education and to produce the Women and the Law. In launching her legal career with West Virginia Legal Aid, handling hundreds of cases, Rochelle's work was recognized by the West Virginia State Bar. She went on to become the managing attorney for West Virginia's statewide pro bono legal program that coordinates thousands of hours of free legal services. Moving into her next chapter of public service, Rochelle spent nearly a decade leading the Office of U.S. Senator Jay Rockefeller managing federal policy, economic diversification, education, and work on healthcare, technology and infrastructure, communications, and constituent services. Rochelle also currently chairs the Federal Reserve Bank of Richmond's Community Investment Council.
Karyn Wallace, MBA, CNMT, PET
Vice President Neuroscience
View Expanded Bio
Karyn Wallace oversees the operations of five academic departments and multidisciplinary patient care across the state and region.  She previously served as assistant vice president of neuroscience, a role to which she was appointed in October 2017.
Wallace previously served as the clinical administrative director of Radiology. Earlier in her career, she worked as a nuclear medicine technologist, a PET/CT technologist, and manager of PET/CT. She has an MBA from WVU and a bachelor's degree in nuclear medicine technology from Wheeling Jesuit University.
Jessica Belt, BSN, RN, MHA, NE-BC
Assistant Vice President Behavioral Medicine and Psychiatry
View Expanded Bio
Jessica Belt oversees the Healthy Minds behavioral medicine service line to include inpatient operations, outpatient operations, community behavioral health center operations, and the Center for Hope and Healing residential treatment center.
Belt was previously the director of ambulatory nursing at WVU Medicine from 2012 – 2019 and served as the director of the Spine Center from 2016-2019.
In her role as Ambulatory Nursing Director, Belt directed clinical operations and performance for 32 primary care and specialty care outpatient clinics within WVU Medicine.
She earned her Bachelor of Science in Nursing from the University of Nebraska Medical Center and a Master of Healthcare Administration from the University of North Carolina, Chapel Hill.
Michael Sweet, PharmD
Assistant Vice President Neuroscience
View Expanded Bio
Michael Sweet is the assistant vice president of neuroscience at West Virginia University Hospitals. Sweet is from Parkersburg, West Virginia, and begin his career at WVUH in 2002 as a clinical staff pharmacist.
Sweet served as the first dedicated emergency room pharmacist in the state of West Virginia. He then served in many roles including quality pharmacist, director of quality and most recently the interim chief quality officer of WVU Health System. He earned his of Doctor of Pharmacy from WVU School of Pharmacy in 2002, then completed a pharmacy postgraduate year two in infectious diseases at the University of California, Davis Medical Center in 2008.
Sweet assists in the neuroscience administrative aspects of the RNI, including the academic departments, multidisciplinary patient care, and outreach across the state and region.
"Many institutions are based in silos, neurology is in one area and neurosurgery is in another. Those silos are all broken down here and we bring it all together under one umbrella – one Rockefeller Neuroscience Institute."
Ali R. Rezai, MD
John D. Rockefeller IV, Chair in Neuroscience
Executive Chair, Rockefeller Neuroscience Institute
Associate Dean and Vice President, Neuroscience